Archive for July, 2010
04
Jul
I haven't blogged in awhile, but that's really because I've been so ridiculously busy. Art camps started at my art center and that means I work overtime and am left exhausted by the end of the day. Plus, Dave and I have been jamming things into nearly every evening of the week.
I did have time, a week ago, to host a Scrap-a-palooza at my house, which was lots of fun! There were 5 of us in my dining room. It was cozy, but it worked and everyone had a good time!
I started my next album, which is going to be an outdoor adventure album. Since we have so many photos from different camping trips, whitewater rafting trips, and even a river float trip, I decided to combine them into one album.
Summer Band has come to an end for me… and I have to say that it really sort of saddens me! I didn't realize just how much I missed playing and having the camaraderie of fellow musicians. I also really enjoyed the challenge of new music and feeling like I had to "conquer" it. And while, yes, the first rehearsal was laughable for me, with me hitting 10-15% of the notes, I ended with being able to play probably a good 85% of the music. There were definitely some spots where I still struggled, but over all, I was pleased with how far I had come in 6 weeks.
The best part about Summer Band was that I was able to talk a friend of mine, Karen, into joining with me. She played French Horn, but didn't own one, so she hadn't played in quite some time. I emailed our director, Avi, and asked if Karen could borrow a horn. He said he was able to get one for her, so Karen joined the band! We had a great time and she said that she too, struggled with some of the music but was still enjoying herself.

We performed 3 concerts. My mom and my brother and his family, along with Dave and our friend Josh, came to our first concert, which was on PSU campus, in front of the library. We sounded pretty good, I thought and it was interesting to have my first concert in YEARS! Here are a few photos that were taken by PSU photographers for the Live website: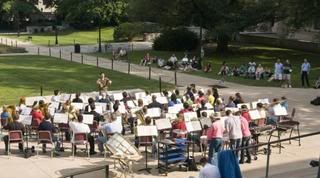 Our director, Avi, who is so nice and incredibly patient!: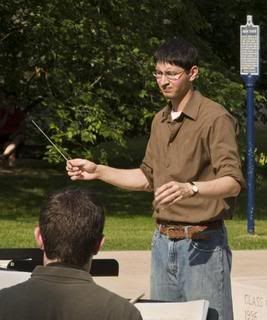 A nice shot of me playing in the flute section (pink shirt):


Karen in the French Horn section: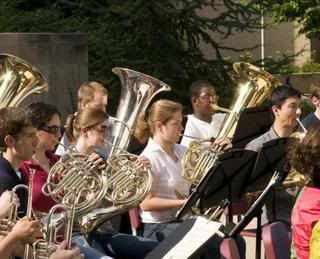 The 2nd concert was at a retirement village called Foxdale. That was an indoor concert, and the audience loved us! My boss, Steph came to it and my friend Aimee came as well, and I got to chat with her a bit afterwards. She also used to play in the band, so I'm hoping to convince her to join with me next year!
Our 3rd and final concert was in down town State College, at the Central Parklet. We had a decent sized crowd, and we sounded our best, I thought. Dave came to that one as well, along with our friends, Josh, Helen, Blake and Kerrie. It was really nice to have so much support from my friends!
I'm in the sunlight: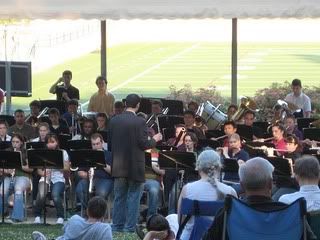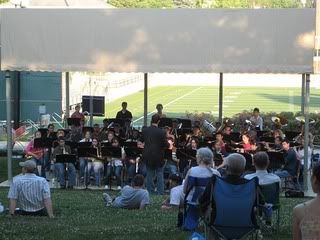 And with that, band came to a close:


It was such a fantastic experience, and I got to meet some really great people and make a few new friends, including Avi, who we've hung out with several times already, even though band has ended. I hope that I continue to play and practice. I'm contemplating joining a community band… we'll see about that. I may not play again until next summer… which will be Avi's last year, so I'm extremely hopeful that someone else will continue the program. I really appreciated the no-pressure atmosphere to get myself back into playing.
A picture Karen took of me after our last concert: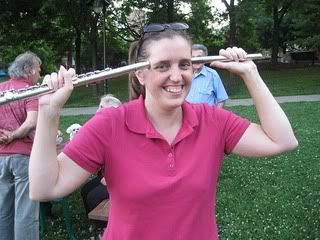 it's probably better if you don't ask…
In other news, Dave and I have decided to finish our basement. We began cleaning out the garage, so that we could move boxes out of the basement and into the garage. My dad and brother are going to come over and work on it over the next two weeks. I can't wait to see it all done and have more space! We're probably going to move our current cr-office into the space, and make it a crafting/gaming/computer room, with a futon or something else too, in case we have more guests than our guest room can handle.
In the process of cleaning out the garage, I kept uncovering so many things from my musical past. Sheet music, medals from indoor percussion and regional band, along with photos and band programs (I've apparently played Irish Tune from County Derry a minimum of 4 times). With Summer Band just ending and finding all of this band paraphernalia, I just felt this sadness that I let go of such a huge piece of my life for so long. I'm so glad I had this opportunity to play again, but it really sunk in while cleaning out boxes how much music played a crucial role in so many aspects of my life~ I made life long friends, learned to be a pretty good player and had fun! I hope that I keep playing… even if it is only during the summer.
So, I've definitely been busy, with art camps, scrapbooking, band, team trivia (another thing my friends and I do during the summer months) and working on our basement… little time for blogging! I'm sure I'll have more time once art camps come to a close.
Until then, I hope to keep doing the things I love, just without getting the chance to write about it all!