Archive for December, 2010
23
Dec
It's been a ridiculously long time since I've blogged… truth is I haven't done a lot of scrapbooking in the past few months. I have been creatively drained, but for an exciting reason- my hubby and I are expecting our first baby at the end of March!
Dave and I couldn't be more excited about this and we can't wait to meet her! Although being pregnant has drained a lot of my creative energy- for a good cause, but still frustrated when I sit down to do some work and nothing comes to me. I know this will change eventually but there won't be much scrappin' for me to write about for the next few months.
However, I did finish my cruise album over the summer and never got around to posting the pictures. So I at least have those pages to post and write about for now! Here are some of my favorites (but by no means, all of the pages… it's a crazy thick album!).

No, I didn't make the album, but it is really awesome. I found it, of all places, in a Kohls store. While you might not think to look for scrapbook albums in Kohls, they have some really beautiful albums at very reasonable prices. I think I paid around $12 for this and the flowers are embroidered and over all it's a very sturdy album.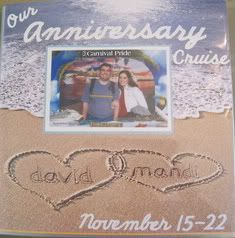 I can't take credit for a majority of this page. I did use the Cursive 101 Cricut Cartridge for the letters, but the actual page where it says Dave & Mandi at the bottom in the sand was a special order page. I got it from a website called Scrap Your Trip (www.scrapyourtrip.com) which is a really fabulous site! This personalized page was slightly pricey at 3.50, but it will last a long time and it looks awesome. This website usually has some great sales and most of their other products are very reasonable. There are products for just about every single destination you can think of- if you're doing an album for a special trip, I hightly recommend this site!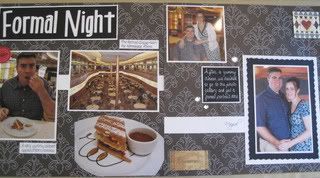 This was the spread I did for our formal night on board the ship. I used the Jubilee cartridge for the font, and instead of using the letters that were cut out, I decided to use the negative space of what was cut out for a more polished look. I tried to keep embellishments to a minimum for a more sleek, elegant look.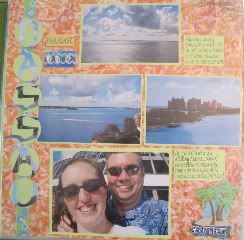 This page was dedicated to our arrival in Nassau, Bahamas. I have to apologize because I don't recall the exact font I used because it was one of the fonts from the Sure Cuts A Lot program. I'm sure I've discussed this program before- It has a really big pro and a really big con. The pro is that it pulls all the fonts you already have from your computer and there are even websites where you can download free fonts, which in theory, should eliminate the need for a lot of the different font cartridges for the Cricut. However, the con is that the program is extremely buggy at times. I once went 2 months without launching the program and it told me I needed a license. Seeing as how I paid for it, I had the license but for some reason it wouldn't recognize it. Unfortunately, this happened to me more than once and I had to get in contact with the customer support service to remedy it. Then, if you have already cut something and you leave the program running and the computer goes to sleep, it will lock up both the program and your Cricut when you wake up your computer and try to use SCAL again. You just have to remember to close SCAL if you take a break between projects.
Back to the page- The title of this page is my favorite:



I had many left over photos of Nassau harbor, so I decided to cut out the letters from the leftover photos. You can see parts of Atlantis Resort in the letters.

This is the adjacent page to the Nassau page. I really wanted the focus to be on these two pictures, instead of trying to fit more on it. These were two of my favorite photos from our trip so I wanted it to be the highlight. I used the same font as I used for Nassau; I really liked it because it sort of reminded me of some of the pirate-type script I had seen on several signs while there. For the border, I had a small palm tree punch that I used. They certainly aren't perfectly spaced, but I feel like part of the charm of certain pages is when things aren't perfect. It shows the handmade-ness of it.

I had so many photos from our snorkeling trip and I may have over-done it on this spread but I still had fun making it! I cut out my own coral and sea weed shapes and used a few tropical fish stickers around. For the background, I tore paper strips from different shades of blue to give a watery effect. I wish I could take credit for the Snorkel Excursion title on this page, but this was something I ordered from Scrap Your Trip. It came with several layers and even the goggles had a plastic piece to make it more three-dimensional!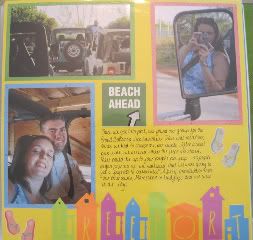 Here's the opening page for our jeep excursion in Freeport. I used the Jubilee cartridge again, but one of the settings will cut letters into little house shapes. I absolutely loved this because it was a common site to see small brightly colored houses in the Bahamas and this font option really made me think of that. I again opted to not use too many embellishments, partly because some of my pages were heavy on embellishments and I needed to balance out my albums, and also I wanted this page to focus on my journaling, to tell the story of our trip.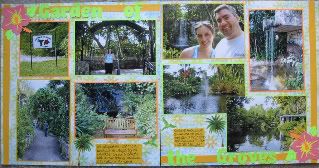 So many photos, so few pages to squeeze them on to! I do like alternating pages when I focus on one or two and then have ones like this where I put as many as I can. I don't feel like this spread is as busy as some of my other ones, mostly because I was able to arrange them without overlapping too much. The one set where the corners are overlapped was done so because there was a white pipe coming out of the ground and I didn't just want to crop the photo because that would've meant also cutting off the edge of the pond and some of the beautiful palm trees on the right edge… so I overlapped the corner to hide this instead of cropping out other parts of the photo that I liked.
I used another font from the SCAL program called Advert Regular, which sounds really boring, but as you can see, its actually a really neat looking one! For the flowers in the corners, I used the hibiscus option on the Life is a Beach cartridge (which even though I didn't mention it much in this blog so far, was easily one of my favorites to use for this album!!). I used the layers option to get all of the colors, and while that meant cutting the same image 4 times for the 4 colors, I think it looks fantastic!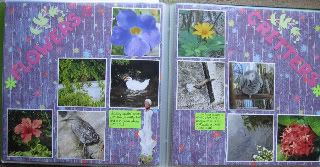 I had a lot of photos from the Garden of the Groves, bugs, flowers, critters.. so I decided to use these photos for their own spread, rather than try to do two spreads for the garden and weave these photos in with the lovely shots of the landscape. I actually didn't use a font cartridge or SCAL font. I had letter cut outs that I had bought from JoAnn Fabrics years ago, long before the Cricut came around. I was able to crop all the photos to roughly the same size to make it more grid-like… the exception was the purple flower, but rather than cutting of the petals, I just let the edge of the petals come out, so it looks like the flower couldn't be contained.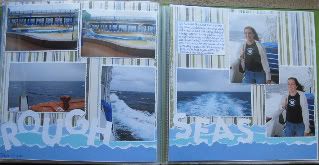 As I stated in my review of the cruise, the last day was a little windy and rough, as we made our journey home. I used the torn paper effect for the water at the bottom and I decided to use that to my advantage for the title by placing the letters on separate waves. I used a font called Cricut Keystone, which is a very simple and basic block font.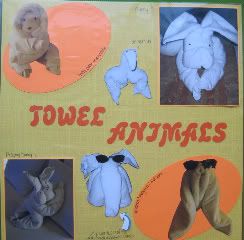 Loved the towel animals that we got every day but they didn't fit in with the day-to-day layouts that I was doing. So I saved all of them for one of the pages at the end! I just want to show that sometimes all the photos don't have to fit in neatly with your layouts to make it into your album. I also did a page of random places on the ship that didn't fit in other layouts.
I had many many more pages, but I just wanted to share a few of my favorites! Hopefully it won't be too long before I post again, but unfortunately I can't make any promises! It might not be until after our baby girl arrives!