25
Sep
It has, once again, been crazy long time since I last posted… but I made it my goal to post something before I hit the one-year mark of me NOT posting! YAY me!
So what's been going on since my December post? Well, in the scrapbooking part of my life- not much. However, I'm perfectly okay with that because I'm the proud mommy of a now 6 month old baby girl!
Victoria "Tori" Barbara came into our world on March 24, 2011. She weighed just over 6lbs- my little bean!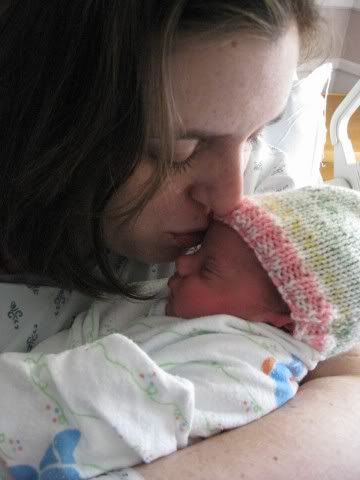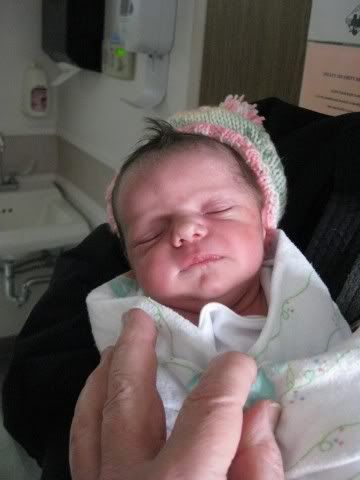 These photos were taken when she was less than a day old. So teeny!
She has been such a joy and it's been so awesome seeing her adorable developments- reaching out for things, giggling, rolling over, etc. Teething hasn't been much fun, but I know it will pass.
As delighted as we were to welcome her into our lives, there was a sadness as well that hung over us. On March 5th, just 2 1/2 weeks before Victoria was born, we lost my beautiful mother in law, Barbara. Victoria was her first grandchild and she was so excited to meet her. She had been fighting cancer for 15 years, but during early 2011, it had spread too much and slowly over took her. One of the last things she said to me was "I wish I could see that little one". Sadly, it did not happen. Barb was easily one of the most amazing people I've ever met- she always had such a beaming smile through every chemo treatment, every roadblock that came up… even when she was in pain, she had such a positive attitude… right up to the end. Dave and I decided to honor his mother by making our baby's middle name hers. I know her presence will be missed during Tori's childhood, but we promise to keep her memory alive.
In fact, I already have one plan to do just that. I haven't started it yet, but I will need to enlist some help from some of Barb's friends. My plan is to make a memory book, filled with photos and stories about Barb. It won't be an all out scrapbook- there will be few if any embellishments. I'm planning to get her friends to write stories to me- either a funny memory they had of her or just telling how she touched their lives. This way, Tori will hopefully be able to feel like she really knew who her grandmother was.
My parents have been absolutely ecstatic about having a new grandbaby to spoil! (My dad is quite good at getting her to either giggle or pout!) They luckily live not too far from us so they're able to see her fairly regularly, though probably not as much as they'd like to… maybe Dave and I need to hit them up more often for baby sitting so we can go on a date night and they can spend more time with her (win win, right?)!
I truly feel though that, from the moment she was born, it's as if someone hit the accelerator on time… she was this tiny little person (and I felt so scared to handle the little skinny-mini sometimes) and then suddenly she's 6mo old! I have a feeling her 1st birthday will catch me by surprise and then it will probably be time for her high school graduation!
I have found very narrow windows of opportunity to scrapbook. I need to sometimes because it is so much a part of my life and I think it's important for Victoria to grow up understanding that mommy likes/needs to have time to herself once in awhile. I feel like so many parents throw their whole lives into their children, which I don't believe is healthy, for either the parent or the child. I realize that having children means sacrificing life as you knew it, but I don't think that means giving up everything you once loved- you just shouldn't lose yourself completely. Dave still has game nights with friends and I still have times I get to scrapbook.
Here are a few samplings of what I've been up to: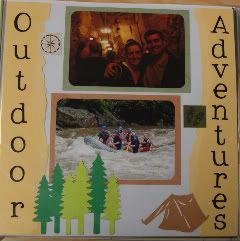 This is the cover of my… wait for it… Outdoor Adventures album! We go camping fairly regularly with friends so I decided to combine it into one album. The letters are actually stickers. I used the Camp Out Cricut cartridge quite a bit in this album- that's what made the trees and tent on this page.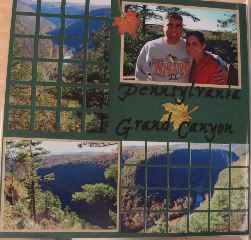 We went to the Pa. Grand Canyon during one of our camping trips and took some lovely photos. I wanted to do something a bit different with them, so I used my paper trimmer to chop the photos into 1″ pieces and made a mosaic with them. I love how it looks, but I won't lie, it requires some patience. It's easy to get your photo pieces mixed up so you have to do this carefully.
I did one on this page as well: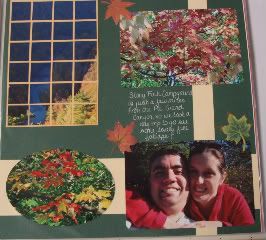 Very cool effect!
We also went to Laurel Caverns on a different camping trip (which, ok, technically is not outdoors, but it's part of nature!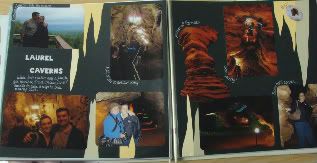 I cut some stalactite/stalagmites out of tans and grays and placed them on the black background to get the cave effect. I also cut out one of the formations to highlight it. In the corner, on one of my stalactites, I used a small cut out of a bat we saw, while on our tour!:


I thought it was a cute idea…

Lastly, here is one of my favorite layouts:


I did something similar in my honeymoon album with the lazy river that Dave and I played in at Aquatica. I liked my idea so I played with the same elements and created this white water rafting river. We had a few good photos, taken by the people running the rafting adventure, and of course, I couldn't help myself, so I bought them. I cut out a few and then just did an oval crop for the others. It's sort of a progression of our raft as it ran wildly out of control floated down river.
I also made a scrapbook of my 30th birthday weekend in Baltimore: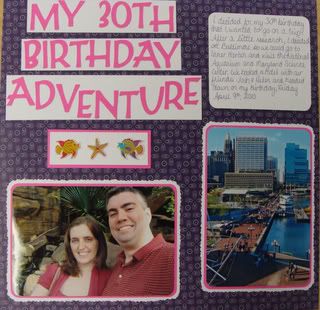 If you'll remember from my previous post, we went to the National Aquarium and Maryland Science Center. We had lots of great photos of beautiful fish.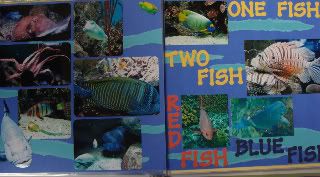 For the background, I used two solid blue pages and then I ripped up some lighter blue paper scraps that I had and glued them vertically around the page to give a watery effect. I refrained from using too many stickers (though I have what feels like millions of them) because I wanted the fish photos to speak for themselves… but I couldn't resist using a famous Dr. Seuss title to compliment my page.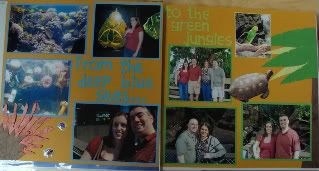 On this page, I used the font from the Life is a Beach cartridge (I'll interject that that is probably my absolute FAVORITE cartridge- great shapes and excellent font!). For the sea anemone and palm tree, I simply cut them out of some textured paper that I had. I was quite pleased with the way this one turned out!
For my next one, I won't say it was my best layout but I did use my outside-the-box idea of making a thin slice above a matted photo so that I could insert the brochure from the aquarium.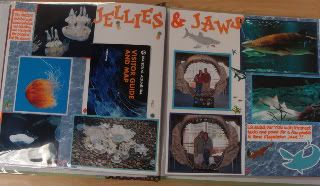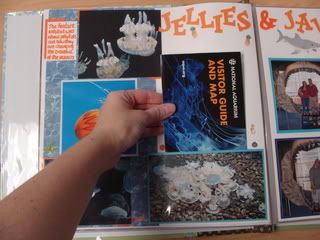 Jellies & Jaws!! RAWR!!
I'm really happy with my next layout because I think the use of complimentary colors worked well- my orange background with the vivid blues of the fountain. I also like this because our whole encounter with the fountain was unplanned… we just happened to be walking to the Science Center when we came upon it. We had no idea it was there but it was a fun moment with friends!

I used the Stone Script cartridge for the font and a few fun water splash stickers as embellishments. I also cut some corner pieces out of the same yellow paper as the font to help frame out the whole layout.
As always, ending albums is probably the toughest for me because I'm never quite sure what to do… but actually, having blogged about this trip previously, I used my idea of the crawfish waving goodbye to say farewell to Baltimore!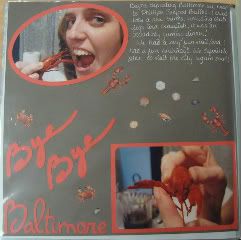 I used the Opposites Attract cartridge for the font and a few lobster stickers help draw my album to a close.
"Bye Bye Baltimore"!
I am hoping that it won't be another 9mo or so until I post again!
I am hoping to get started on my baby girl's album soon (I'll be going to the scrapbook retreat in November which will be my first time away from her for overnight!). I just have one other album that I'm finishing up before I get to hers… the only problem is I don't think they make a scrapbook big enough to hold the 1000+ photos I've taken of her!!

For now, I'll leave you with another photo of my cutie pie with her two new teeth!